Projects
Church Street Triangle
Triangle Update - August 2023
The public realm area of the Church St Triangle is now complete, providing:
new seating areas based on gabion cages infilled with reclaimed stones from Lisson St Gardens and roof tiles from the WC block
new lighting columns
new trees
new paving stones along the shop fronts and toilet block
retention of the York stone slabs and inscribed plaques
the area has been given a deep clean and sealed
What's Next?
The next phase of work will create a new Enterprise and Community space in unit 62 and units 66-72 Church Street. Together the spaces will provide seven studio units for use by local start-up businesses and a flexible space for events, workshops and community activities.
We are pleased to welcome Arbeit Studios who will support providing space for start-up businesses and community activities on the new enterprise units being built.
The completion of the seven enterprise units is expected to be completed this autumn followed by further engagement for new tenants. If you are interested to find out more about the space, contact info@arbeit.org.uk
Also, as part the works, the existing WC block will be converted into a café and provide three new public toilets. These works follow improvements to the Church Street Triangle landscaping, including new seating areas, lighting and paving.
Works commenced in November 2022 and will be completed by Summer 2023.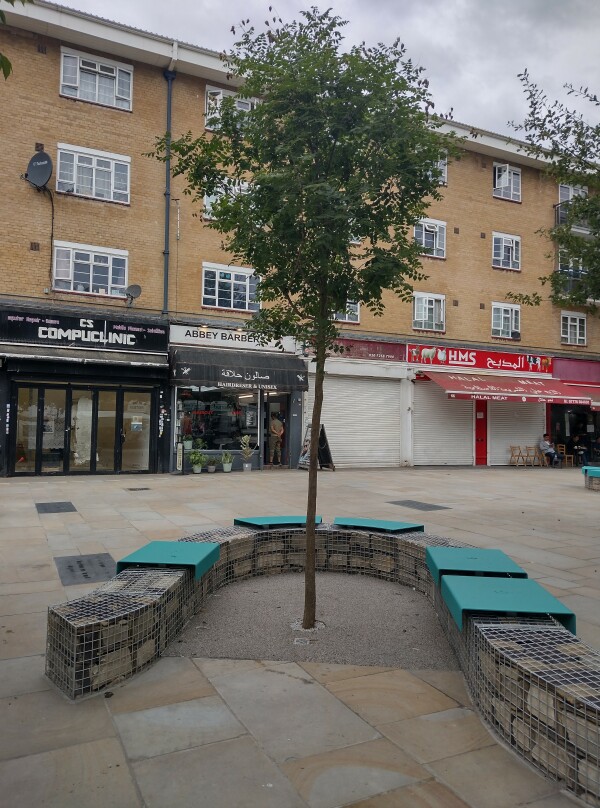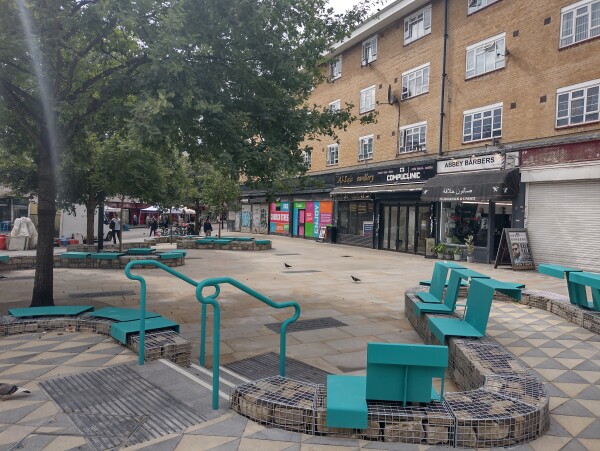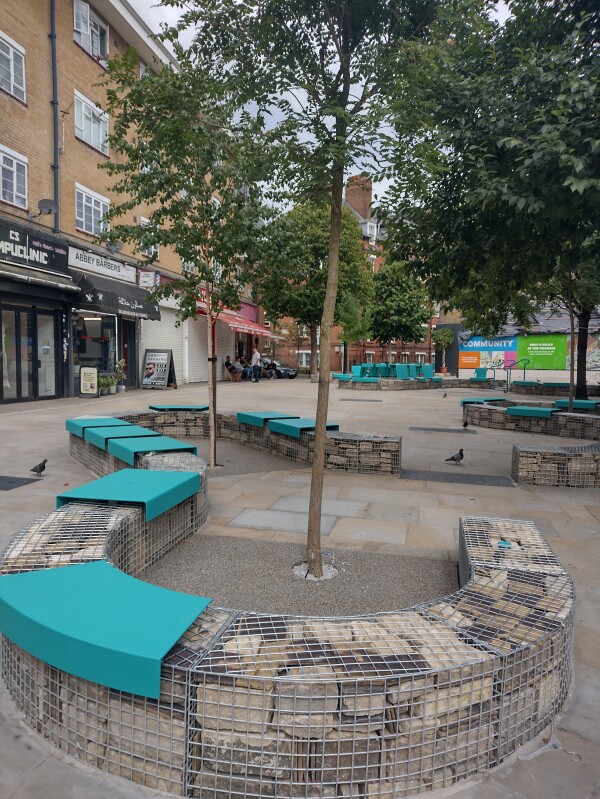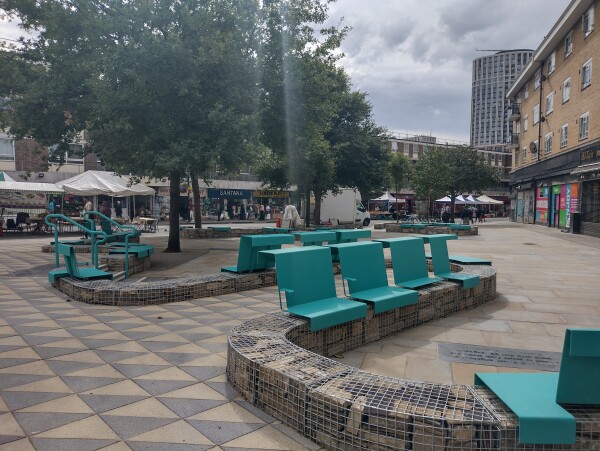 Triangle seating area
Triangle Project
The Church Street Triangle project aims to refurbish unused buildings and upgrade underused public space to create a new heart for the area which can be enjoyed by the local community for years to come. This project will be delivered in 2023.
In September 2020 Westminster City Council and Jan Kattein Architects presented initial designs for the Church Street Triangle. The proposed new space will introduce areas for micro retail and enterprise space and provide community space in the heart of Church Street.
Construction work underway
Work to the Church Street Triangle began on Monday 10 January 2022.
The work is split into three phases to minimise disruption and track the progress. The construction work will be completed by FM Conway.
Construction on the Triangle is progressing well. Concrete foundations are being constructed for the new seating areas, and installation of the seating will begin within the next month
How we are minimising disruption?
Apart from delivering the project in three phases, we have worked with FM Conway to put measures in place to ensure
noise, dust and vibration is reduced where possible.
Noise, dust and vibration
To reduce noise, dust and vibration, fencing will be placed around the working site during each phase. We must state, this is a highways work site, and consequently there will be noise associated with certain construction activity at various times during the project. The work which may cause disruption will be within the planned, allowed working hours. Water spray and keeping equipment clean on the ground will reduce dust as much as possible for the surrounding area.
Traffic disruption
This is unlikely to take place as there will be no obstructions on roads, but we will continue to monitor and adjust work accordingly. Construction vehicles will enter and exit via one point on Salisbury Street, near the rear of the current convenience block.