Church Street development reaches key milestone with Ashbridge Street 'Topping Out'


Another development within the wider Church Street regeneration programme, Ashbridge Street,
has reached a key milestone as the highest point of the structure has been completed.
Westminster City Council and contractor Osborne celebrated the achievement with a 'topping out'
ceremony.
Across sites in Ashbridge Street, Ashmill Street and Cosway Street, 77 new homes will be built with
28 of them being affordable homes.
The income generated by selling the homes at Cosway Street will be reinvested back into affordable
housing and community projects in Westminster.
The Ashbridge Street, Ashmill Street and Cosway Street developments are part of the wider Church
Street regeneration programme which in total will see the creation of around 1,750 quality homes.
Building much needed new homes in Westminster is a key part of the council's ambition to create a
'City for All', enabling people of all backgrounds, needs and aspirations to live in the city.
The three sites are set to be completed by early 2023.
Cllr Heather Acton, Westminster City Council Cabinet Member for Regeneration and Communities,
said:
"It's fantastic to see these sites reach a major milestone in their construction as the homes are much
needed in the area. The developments are part of our Church Street regeneration programme to
build sustainable and affordable homes for residents in the community, plus more green space and
improved facilities.
"We want local people and businesses to remain at the heart of this vibrant area of Westminster and
we have been working closely with the local community to shape the plans for the regeneration."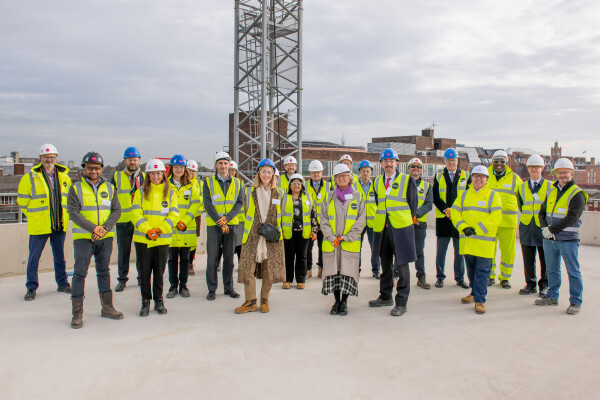 Gordon Kew, Managing Director Built Environment of Osborne, said:
"Celebrating the Topping Out of Ashbridge Street gives us all the opportunity to reflect on our positive relationship and the journey so far with Westminster City Council. We are delighted to have achieved this milestone, reaching the completion of the structure on the Ashbridge Street site. The building will have a green roof and renewable energy sources adding to the green credentials. We are also on site at nearby Ashmill Street, and Cosway Street where a green bio-diverse roof,
incorporating photovoltaics will improve the buildings energy efficiency, reducing carbon emissions.
"Working in partnership with Westminster City Council we are delighted to be delivering high
quality, affordable and sustainable homes."